Treasure Hunt Adventures Introduced by Tiki Tavern Nautica just off the Gulf coast of Florida
People living around our area have been talking about the infamous Captain Rum-Beard. He was a mysterious thief who was notorious for stealing other pirate's buried treasures, and hiding clues on nearby Islands on Florida's gulf coast!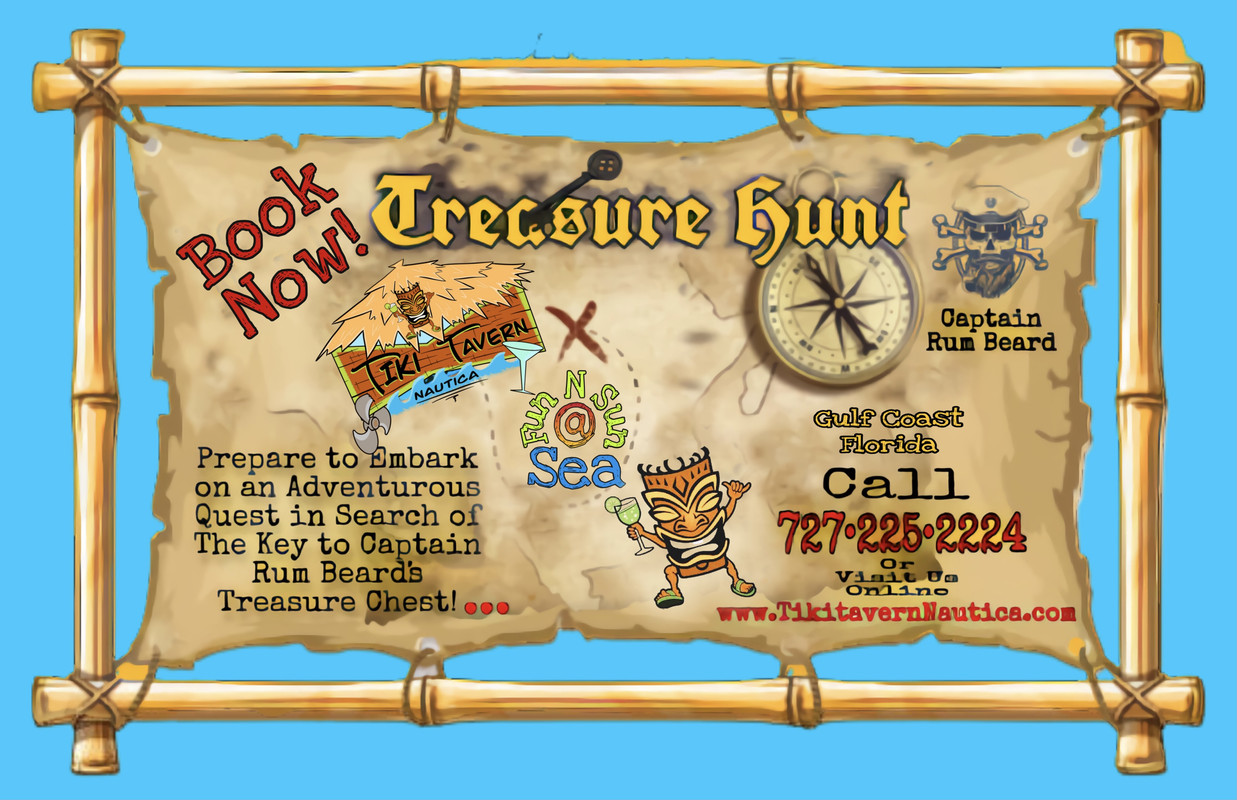 Some of the places he is known to have traveled are coastal towns just outside of West Tampa, specific local uninhabited sandbars, and islands off the Gulf Coast of Dunedin and Tarpon Springs, Florida. Captain Rum Beard would always leave a clue somewhere to find his treasure, and guess what? Tiki Tavern Nautica just found this clue! So climb aboard as They set course westward towards the lighthouse on nearby Anclote Island in search of the next clue.
Introducing Tiki Tavern Nautica, a different kind of start-up charter boat company that will begin operations in mid-February 2021 from 3 locations. Tarpon Springs, Dunedin, and Clearwater Florida. It will be providing unique types of the charter at sea services geared towards a smaller and more personal entertainment experience for locals and vacationers who seek a more intimate family and friends opportunity to socialize outdoors and at sea.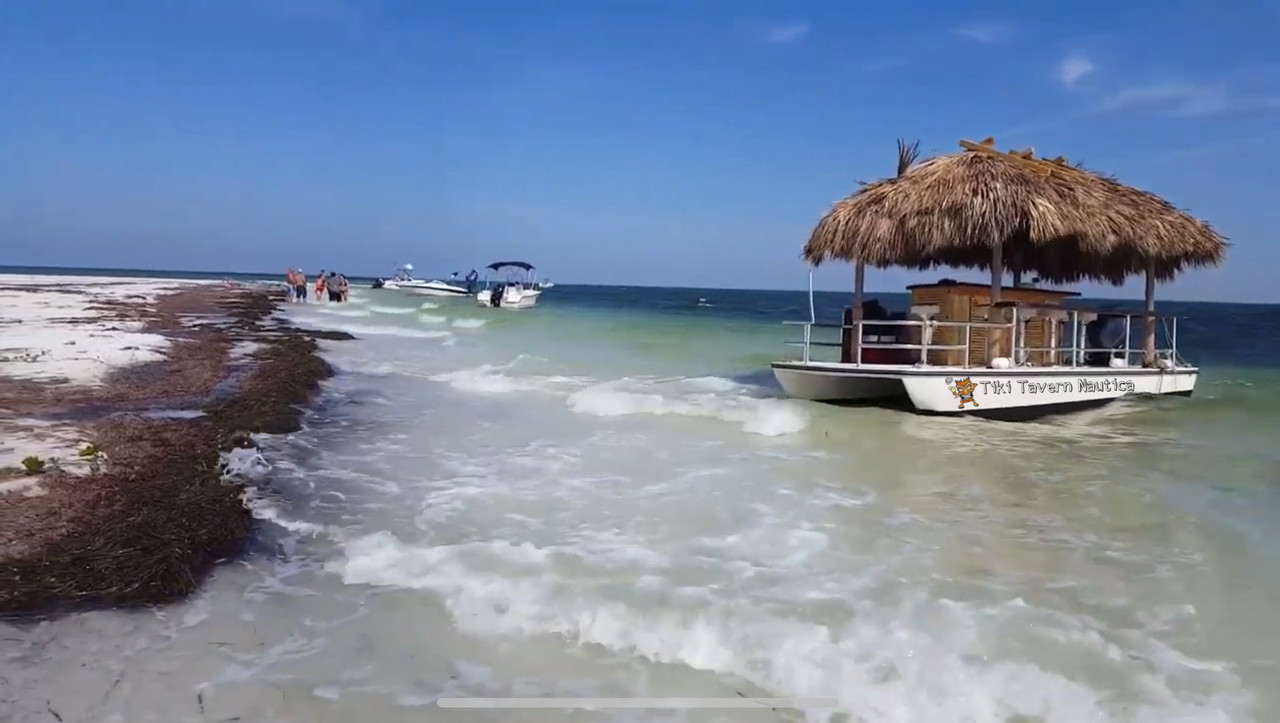 The 20' twin-hull vessel has a classy tiki bar motif with a tiki hut style roof. Its design comfortably seats 6 adult passengers and is equipped with Bluetooth connectivity speakers, ambient lighting, a complimentary chest of ice, and an essential onboard bathroom for emergency needs.
This BYOB charter not only helps save passengers on expensive food and beverages but also offers convenient dockside delivery of most anything pre-made at their local grocery store including sushi, freshly made deli foods, baked goods even an online liquor store. Just start the order by clicking a link on their website 2 hours before departure and "wala" it's delivered to the dockside!
Concerns of exposure to COVID 19 continues to shape vacation itineraries for many families and local weekend party-goers alike. As a result, there has been an increasing trend of seeking socially healthy alternative getaways instead of commonly crowded tourist traps. Tiki Tavern Nautica offers passengers unique day trip experiences with a variety of attractive packages for both locals and tourists alike. They not only hope to support the rejuvenation of the local economy for small businesses but also offer a stress-free, joyful, and memorable localized experience.
In addition to navigating the Tiki Tavern Nautica experience, They also aim to provide their "out of town" guests a complete guide of suggestions for local accommodations and hidden-gem eateries.
Taking it a step further, the company is equipped to assist with travel-related bookings for flights, hotels, and resorts.
Captain Loucas says."We can offer first-hand suggestions of local restaurants, gift shops and other entertainment of vacationers interests. Our business goal is to evolve into an intrinsic local "go-to" element within the Dunedin, Tarpon Springs, and Clearwater Gulf coast area. Our local islands and sandbars have beautiful, tranquil breeze settings and are a wonderful venue alternative to relax with friends and family members visiting almost anytime time of the year." Going further, our certified USSG Captains provide passengers historical information about the local area and articulate what makes our hometown area such a gem."
Tiki Tavern Nautica's concept is rooted in the trending public interest of smaller private social outdoor entertainment platforms in contrast to traditional fishing boats or booze cruise charters as it's more unique, affordable, entertaining, and personal experience.
Tiki Tavern Nautica is confident that its services and values will help them drive the business to enviable heights with that personal touch missing in many entertainment venues today.
More information can be found by visiting www.TikiTavernNautica.com
Media Contact
Company Name: Tiki Tavern Nautica
Contact Person: Media Relations
Email: Send Email
Phone: 7272252224
Country: United States
Website: tikitavernnautica.com