Sterilization Equipment Market: Meticulous Research® Reveals Why This Market is Growing at a CAGR of 12.2% to Reach $23.73 Billion by 2027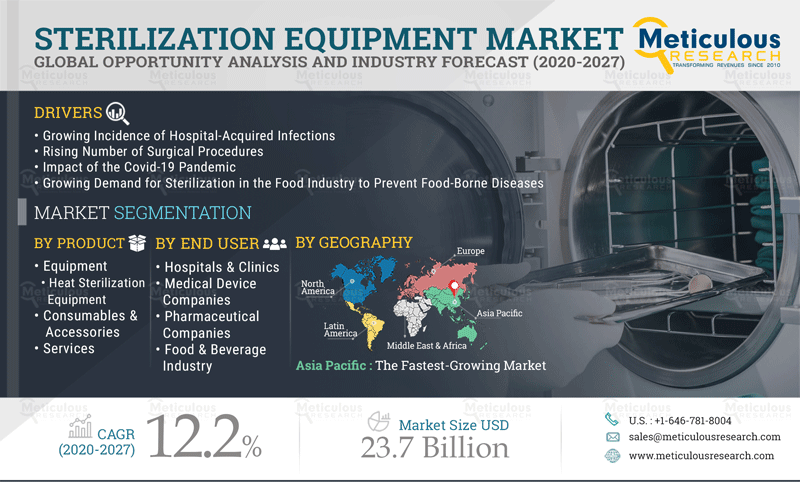 The sterilization equipment market is expected to grow at a CAGR of 12.2% from 2020 to 2027 to reach $23.7 billion by 2027
Sterilization Equipment Market by Product and; Services {Equipment [Heat, Low-temperature (Ozone, Formaldehyde), Filtration), Consumables (Sterilization Indicators, Sterilants), Services (Gamma, Steam)], End User (Hospitals, Pharma)} – Global Forecast to 2027
Infectious diseases are continuously growing across the globe, with which some are leading to high mortality rates, such as COVID-19. Thus, the need for sterilization equipment measures is growing. Meticulous Research®, in its latest publication on the Sterilization Equipment Market, states that the sterilization equipment market is expected to grow at a CAGR of 12.2% from 2020 to 2027 to reach $23.73 billion by 2027.
The growth of the sterilization equipment market is mainly attributed to the growing incidences of hospital-acquired infections, the impact of the COVID-19 pandemic, rising number of surgical procedures, and the rising demand for sterilization in the food industry food-borne diseases, and increasing sterilization demand in pharmaceutical and biotechnology industries.
However, the harmful effects of ethylene oxide and concerns regarding the safety of reprocessed instruments restrict the market's growth to some extent.
Download Free Sample Report Copy Here : https://www.meticulousresearch.com/download-sample-report/cp_id=5141
Scope of the Report:
Sterilization Equipment Market, by Product
Equipment

Heat Sterilization Equipment

Moist Heat Sterilizers
Dry Heat Sterilizers

Low-temperature Sterilization Equipment

Hydrogen Peroxide / Gas Plasma Sterilization
Ethylene Oxide Sterilizers
Ozone-based Medical Sterilizers
Formaldehyde Sterilizers
Others

Radiation Sterilization Equipment
Filtration Sterilization Equipment

Consumables & Accessories

Sterilization Indicators

Biological Indicators
Chemical Indicators

Sterilants
Instrument Packaging & Pouches
Others

Services

Ethylene Oxide Sterilization Services
Gamma Sterilization Services
E-beam Sterilization Services
Steam Sterilization Services
Other Sterilization Services
Sterilization Equipment Market, by End User
Hospitals & Clinics
Medical Device Companies
Pharmaceutical Companies
Food & Beverage Industry
Other End Users
Sterilization Equipment Market, by Geography
North America
Europe

Germany
France
U.K.
Italy
Spain
Rest of Europe (RoE)

Asia-Pacific (APAC)

Japan
China
India
Rest of APAC (RoAPAC)

Latin America
Middle East & Africa
Speak to our Analysts to Understand the Impact of COVID-19 on Your Business https://www.meticulousresearch.com/speak-to-analyst/cp_id=5141
To provide efficient analysis, Meticulous Research®has segmented this market by product (equipment, consumables & accessories, services), end user (hospitals & clinics, medical device companies, pharmaceutical companies, food & beverage industry, and others), and Geography (North America, Europe, Asia-Pacific, Latin America, and the Middle East & Africa).
Wherein, geographically, North America is projected to command the largest share of the sterilization equipment market in 2020, closely followed by Europe and Asia-Pacific. However, Asia-Pacific countries, namely, China and India, are slated to register the highest growth during the forecast period primarily due to the recent outbreak of COVID-19 and various government initiatives to boost sterilization equipment production.
Based on product, equipment is expected to dominate the market in 2020 due to growth in COVID-19 cases, rising hospitalization rate, and the increasing number of hospitals to tackle the issue of COVID-19.
Based on end user, the hospitals & clinics segment is projected to dominate the market due to the number of cases of COVID-19 across the globe, rising hospitalization rate, increasing HAIs among healthcare facilities, and the need to maintain a sterile environment for quality care.
To gain more insights into the market with a detailed table of content and figures, click here : https://www.meticulousresearch.com/product/sterilization-equipment-market-5141
Key Players
The report provides competitive intelligence in terms of financials, growth strategies, product portfolios, and geographical presence on some of the key players in this market, including STERIS plc. (U.S.), Cantel Medical Corp. (U.S.), Getinge AB (Sweden), 3M Company (U.S.), Advanced Sterilization Products (U.S.), MMM Group (Germany), MATACHANA group (Spain), Cardinal Health, Inc. (U.S.), Sotera Health (U.S.), and Belimed (Switzerland).
Amidst this crisis, Meticulous Research® is continuously assessing the impact of COVID-19 pandemic on various sub-markets and enables global organizations to strategize for the post-COVID-19 world and sustain their growth. Let us know if you would like to assess the impact of COVID-19 on any industry here-https://www.meticulousresearch.com/custom-research
About Meticulous Research®
Meticulous Research® was founded in 2010 and incorporated as Meticulous Market Research Pvt. Ltd. in 2013 as a private limited company under the Companies Act, 1956. Since its incorporation, the company has become the leading provider of premium market intelligence in North America, Europe, Asia-Pacific, Latin America, and the Middle East & Africa.
The name of our company defines our services, strengths, and values. Since the inception, we have only thrived to research, analyze, and present the critical market data with great attention to details. With the meticulous primary and secondary research techniques, we have built strong capabilities in data collection, interpretation, and analysis of data including qualitative and quantitative research with the finest team of analysts. We design our meticulously analyzed intelligent and value-driven syndicate market research reports, custom studies, quick turnaround research, and consulting solutions to address business challenges of sustainable growth.
Media Contact
Company Name: Meticulous Market Research Pvt Ltd
Contact Person: Khushal Bombe
Email: Send Email
Phone: +1 646-781-8004
Address:1267 Willis St, Ste 200 Redding, California, 96001, U.S.
Country: United States
Website: www.meticulousresearch.com